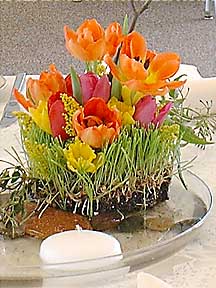 Your office surroundings, including the lobby, conference room, offices, etc., speak volumes about your company. That's why so many successful businesses use fresh and dried arrangements throughout their offices. It's an investment that pays big dividends.
Using flowers and plants as an effective business tool is limited only by your imagination – or ours. And since we have nearly 20 years experience helping businesses get noticed, we're pretty sure we can help your business get noticed too.
Businesses which choose to have a weekly standing order will receive those arrangements delivered free within our local delivery area. Have an unusual situation which you think calls for the out of the ordinary or even the spectacular? Call us!